Home Decor: Adding a Handmade Metal Vase to Your Living Room
Your living room is the hub of your home. It's the space where you unwind after a long day, entertain guests, and spend quality time with your family. Therefore, it's important to ensure that your living room reflects your style and personality. One way to add a touch of elegance and uniqueness to your living room is by incorporating a handmade metal vase.
Handmade metal vases are a beautiful and versatile decor item that can be used in a variety of ways to enhance the overall look and feel of your living room. Whether you have a modern, minimalist, or traditional living room, a metal vase can be the perfect addition to complete your decor.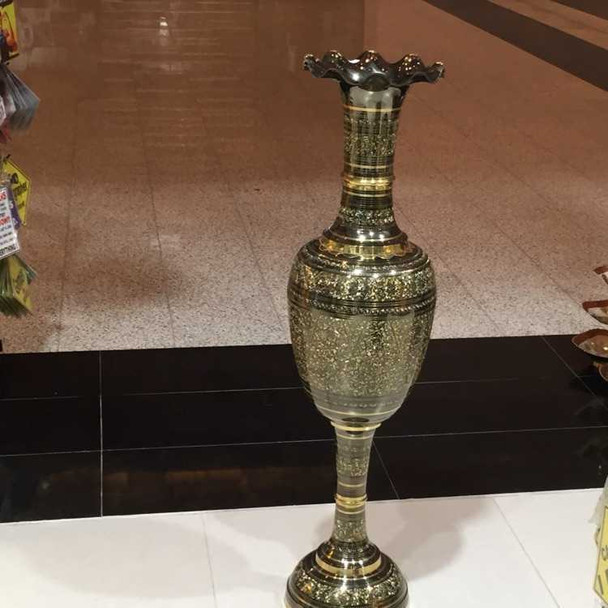 A handmade metal vase is a statement piece that can be placed on the floor or on a tabletop. If you have a large living room with high ceilings, a floor vase can add height and drama to the space. Floor vases come in different shapes and sizes, and a handmade metal vase can be a beautiful and unique addition to your decor.
When choosing a handmade metal vase for your living room, consider the overall style of your space. If you have a modern living room, opt for a sleek and simple metal vase with clean lines. If your living room has a more traditional or eclectic style, choose a metal vase with intricate detailing and a more ornate design.
Metal vases also come in a variety of finishes, such as polished brass, antique copper, or brushed nickel. The finish you choose can have a significant impact on the overall look and feel of your living room decor. A polished brass metal vase can add a touch of glamour and luxury, while an antique copper metal vase can create a more rustic and warm feel.
In addition to using a metal vase as a standalone decor item, you can also use it to display flowers or greenery. Fresh flowers can add color and freshness to your living room, while greenery can create a sense of calm and serenity.
Overall, adding a handmade metal vase to your living room decor is a simple yet effective way to elevate your space. With its unique design, versatility, and durability, a metal vase can be a long-lasting addition to your home decor that you will cherish for years to come. So why not consider incorporating a beautiful handmade metal vase into your living room today?
Recent Posts
Finding the Perfect Gift for Every Occasion at CraftiHouse.comAre you looking for the per …

UAE gifts and souvenirsAs the UAE continues to grow as a popular tourist destination and business hu …

"Unwrap the Charm of Local Culture: Exploring Unique Gifts, Souvenirs, and Handicrafts at Our Gift a …