Taught and made for over thousand years in Iranian generations, Calico is the art of block printing on Fabric.
With organic colors and printing blocks made from walnut, pear and hawthorn trees,the professional craftsmen create repeated designs on high quality cotton to design a gorgeous, colorful tablecloth, tablecover, bed coverlet, or pillowcase.
Calico is not just pushing some stamps on some cloth. It is a continuous process in which each design is hand-carved on a separate piece of wood. The next step is to prepare the colors; rose, white alum, turmeric and grape juice are some of the base ingredients used in calico colors. the background color which is usually milky or white, has another special process. Finally, the printing process can begin!
Cotton fabric, is the key to extend life of calico tablecloths. Other than that, the fabric is boiled with pomegranate skin is after the designs are made; this ensures the colors will not fade after wash. A Variety of colors and shapes along with amazing designs has made Calico a fabulous choice for tablecloths and pillowcases.
Authentic Ghalamkari block printed tapestry are among the world's most coveted household items. Famous for their rich color, warm tones and beautiful ethnic motifs, these flat-woven textiles embody a splendid mix of cultures. Because each textile is hand block printed, each one is unique.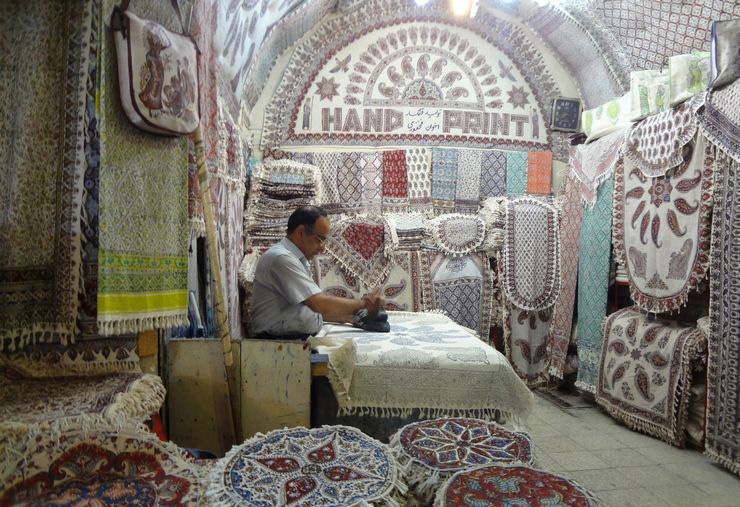 The fabric is natural calico and colors mostly from natural sources which can be easily washed in wash-machine with cold water (no tumble dry)you can use them as bed cover , table sheet , wall hanging ans so forth.
Made of pure natural cotton and printed with natural organic dyes, your Ghalamkari tapestry will be a wonderful piece of luxury for you to enjoy for many years to come.
Care and Wash: Wash alone with 40 degrees Celsius for longer life.
Recent Posts
Finding the Perfect Gift for Every Occasion at CraftiHouse.comAre you looking for the per …

UAE gifts and souvenirsAs the UAE continues to grow as a popular tourist destination and business hu …

"Unwrap the Charm of Local Culture: Exploring Unique Gifts, Souvenirs, and Handicrafts at Our Gift a …