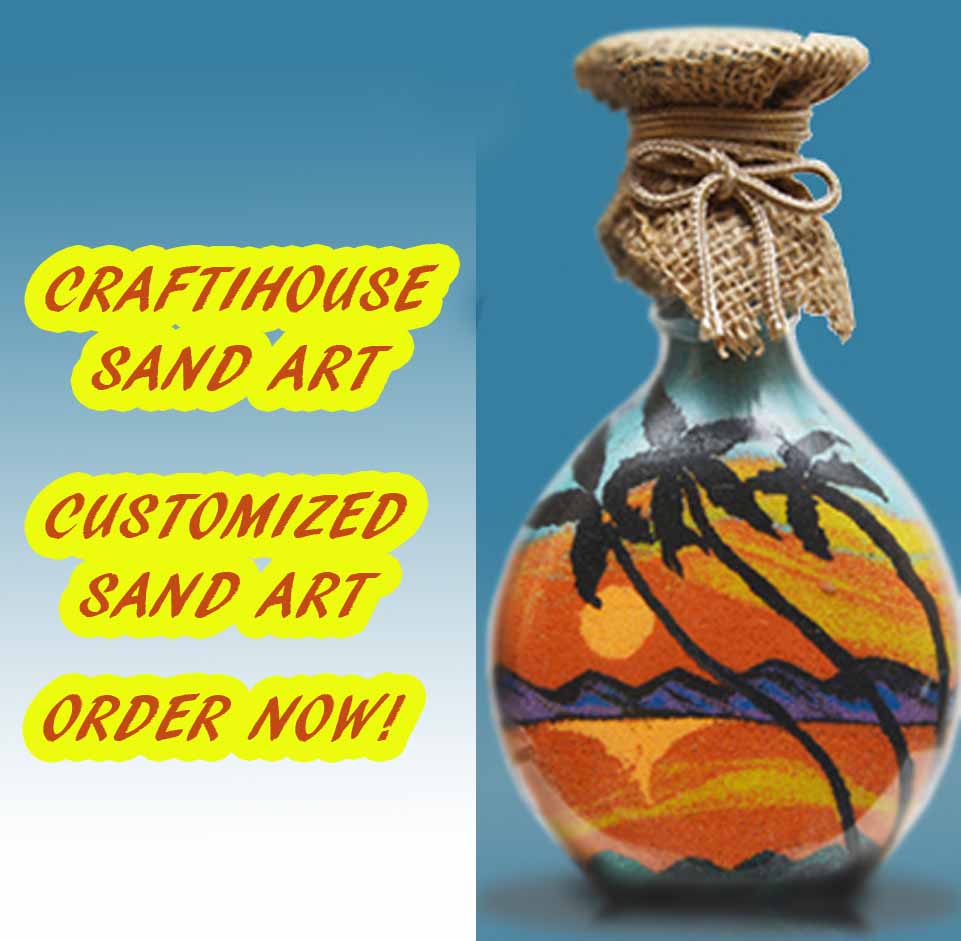 SAND BOTTLE HISTORY
Sand bottle by Andrew Clemens, 1879
In the 1860s to 1890s, Andrew Clemens a deaf mute born in Dubuque, Iowa, USA became famous for his craft of creating unfixed pictures using multicoloured sands compressed inside glass bottles or ornate chemist jars. The sand was collected from the bluffs overlooking the Mississippi River. The subjects of his sand bottles included ornately decorated sentimental verses, sailing ships, plants, animals and portraits.
He exhibited his work at the St. Louis trade fair and having spent hours creating a picture in a bottle would demonstrate to an incredulous audience that the picture inside was unfixed by destroying the bottle with a hammer. Clemens' sand bottles have become museum pieces and highly prized antiques which have since sold at auction for thousands of US dollars.
A beautiful one sand bottle alternative to the traditional unity candle, our Sand Ceremony creates a sentimentally chic way to display your love. Perfect for outdoor ceremonies or destination weddings or any occasions , the customized sand bottle creates memorable ceremony, as well as provide your home ,office and anyplace with a unique piece of decorative home decor after! This sand bottles comes with packing box to protect the bottle and to give it a royal look for your guests or your clients. The Bottle will come with Gift Box.
you can choose the shape of sand bottle , round or flat ? and about the sizes : small , Medium and big sand jars available.
The Bottle can be customized so you can send us the single Initial or 2 First Names & Date in a message
we can Print your company Logo on transparent stickers and stick the logo from inside the sand bottle .
.You can have it as business gift , holiday decoration gift , home decoration gift ,souvenir and wedding giveaway gift. So beautiful sand bottle gift for all occasions and all people . also, it is awesome as Gift sets , souvenir gift , Handmade craft , natural gift , Wedding gift , promotional item ,corporation gift ,Home decorative vase , home decoration , ceremony gift , sand bottle gift , women gifts and men gifts .
you can place your customized sand bottle now from this link : http://craftihouse.com/sand-bottle/
we deliver your order inside UAE within 3-5 working days , we accept urgent orders .
we shipped several sand bottles internationally to whom they lost their Dubai Sand bottles during their travel back to the their homes .
Recent Posts
Finding the Perfect Gift for Every Occasion at CraftiHouse.comAre you looking for the per …

UAE gifts and souvenirsAs the UAE continues to grow as a popular tourist destination and business hu …

"Unwrap the Charm of Local Culture: Exploring Unique Gifts, Souvenirs, and Handicrafts at Our Gift a …